Rubber plantation is now the main land use in tropical China. To reduce the deteriorating impacts of rubber monoculture, rubber-based agroforestry or polyculture cropping has been established. However, all rubber plantations may not have similar land management capacity. Therefore, it is necessary to create an efficient tool to evaluate the soil quality of rubber plantations. Soil quality index (SQI) can reveal the overall soil status with a single score. However, no study has computed an efficient SQI for rubber plantations in tropical region.
In a study published in Journal of Environmental Management, researchers from the Xishuangbanna Tropical Botanical Garden (XTBG) tried to produce a SQI based on soil properties as a tool to guide land management in tropical China.
In order to derive the SOI, the researchers investigated 23 soil physical and chemical parameters of three categories of rubber plantations (rubber monoculture, rubber–Camellia sinensis agroforestry, and rubber–Dracaena cochinchinensis agroforestry) and a primary rainforest.
Compared to the rainforest, the SQI value was much lower in the rubber monoculture, suggesting that rubber monoculture led to soil quality index deterioration. However, the SQI was significantly higher in the agroforestry than the rubber monoculture.
"Therefore, the polyculture practices are suitable to recover the soil quality in degraded agricultural lands," said ZOU Xin, first author of the study.
"We found that the chemical parameters contributed more to the SQI than the physical parameters, indicating the importance of nutrient management for restoring soil quality in agroecosystems," said Prof. LIU Wenjie, principal investigator of the study.
They further found that the rubber–Dracaena cochinchinensis agroforestry performed better in recovering soil quality than the rubber–Camellia sinensis agroforestry.
"The SQI level varied with intercropping species. Proper scientific guidance is important in selection of intercropping species," said ZOU Xin.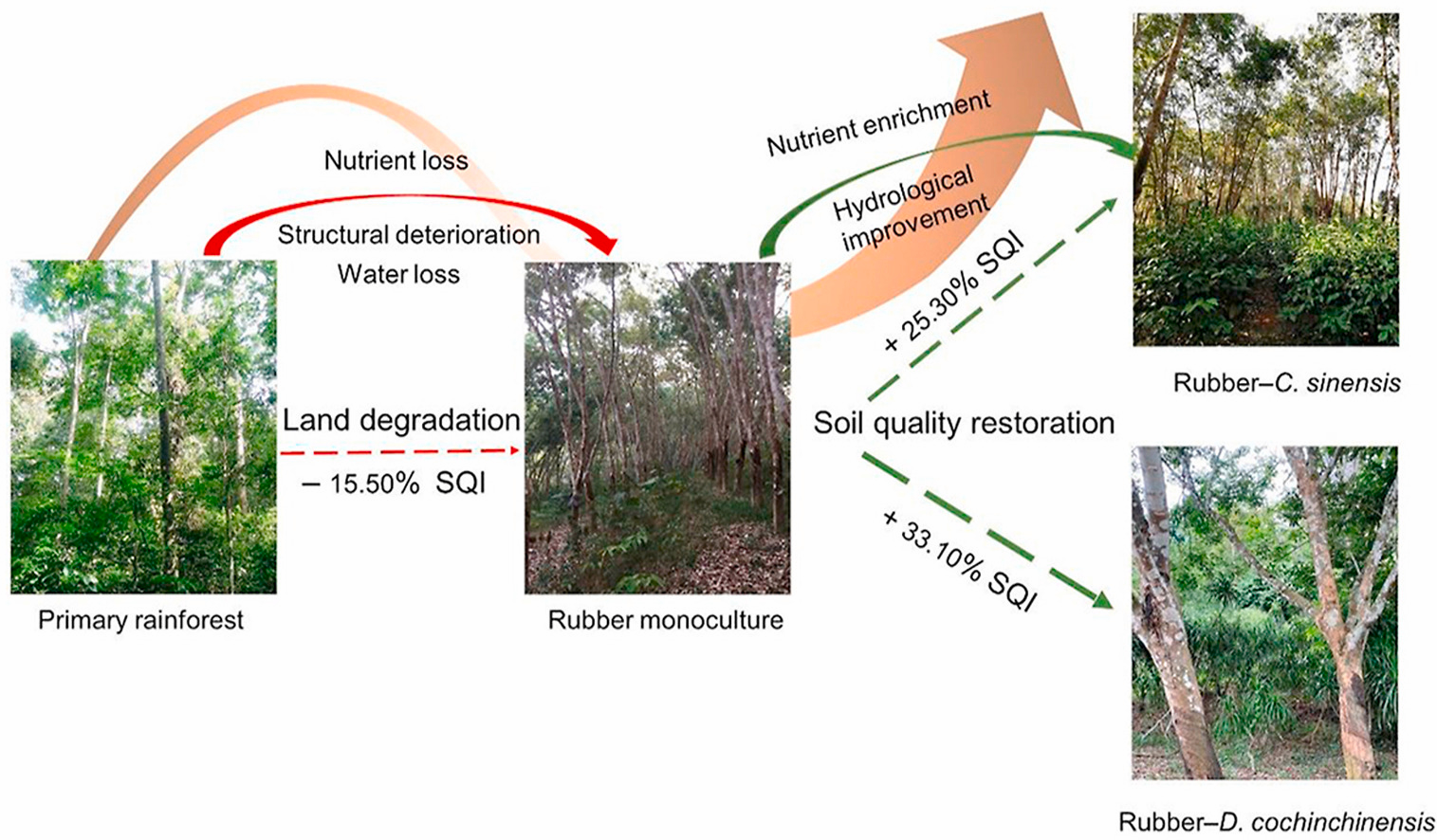 Soil quality assessment of different rubber plantations in tropical China (Image by ZOU Xin)