Two-dimensional (2D) monometallic pnictogens (antimony or Sb, and bismuth or Bi) nanosheets demonstrate potential in a variety of fields, including quantum devices, catalysis, biomedicine and energy, because of their unique physical, chemical, electronic and optical properties. However, the development of general and high-efficiency preparative routes toward high-quality pnictogen nanosheets is challenging.
In a study published in
Angewandte Chemie International Edition
, a team led by Prof. WEN Zhenhai from Fujian Institute of Research on the Structure of Matter of the Chinese Academy of Sciences reported a general method involving a molten-salt-assisted aluminothermic reduction process to synthesize Sb and Bi nanosheets in high yields (>90%), and studied the electrocatalytic reduction CO
2
performance of 2D Bi nanosheets which can be used for highly selective electrocatalytic reduction of CO
2
to formate.
In NaCl-AlCl3 melting environment, Sb oxide or Bi oxide can be reduced by activated aluminum at lower temperature, and then Sb crystal or Bi crystal nucleate and grow into multi-layer nanosheets. It should be noted that Sb oxide or Bi oxide can be completely converted to 2D Sb nanosheet or Bi nanosheet.
The experimental results showed that the comprehensive properties of as-prepared Bi nanosheets is better than those of commercial Bi in the process of CO2 electroreduction. The faradaic efficiency of formate production is close to 100% under the condition of low overpotential (-0.7 V vs. RHE). The edge sites of Bi are far more active than terrace sites based on its lowest thermodynamic barrier. Therefore, as-prepared Bi nanosheets with more exposed edge sites have higher CO2 reduction catalytic activity than bulk Bi.
Besides, the results of long-term electrolysis at -0.9 V (vs. RHE) showed that the as-prepared Bi nanosheets could be electrolyzed continuously for more than 750 h, during which the optimal average formate yield was 778 μmol cm-2 h-1 and the highest concentration of formate reached 0.19 M.Interestingly, the activity and selectivity of the catalyst can be restored if and only if the anolyte is renewed.
The researchers also studied the changes of parameters such as current density, faradaic efficiency of formate formation, pH of electrolyte, K+ concentration of electrolyte, and the content of Bi element in electrolyte over time in the long-term electrolysis process. They found many interesting phenomena.
The researchers found that as-prepared Bi nanosheets shows excellent stability, activity, and selectivity in the long-term electrolysis process, while the change of electrolyte composition results in the decrease of catalyst activity and selectivity.
The findings of this study provide a useful reference for future application of Bi nanosheets in the electrocatalysis conversion of CO2 to formate.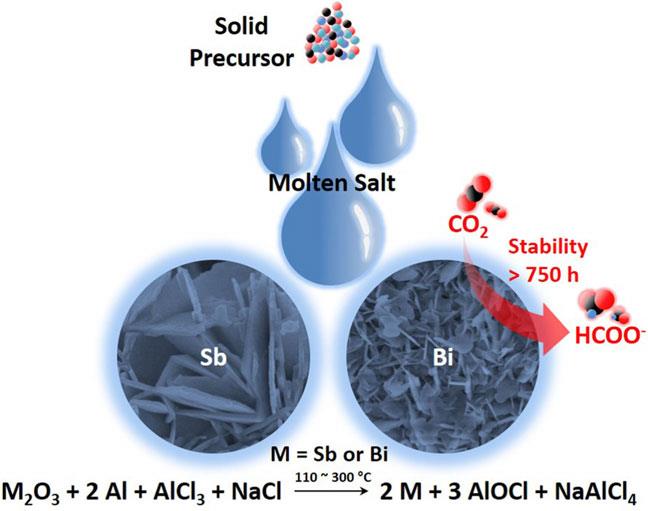 Schematic illustration of the molten-salt-assisted synthesis of bismuth or antimony nanosheets for long-term continuous electrocatalytic conversion of CO2 to formate. (Image by Prof. WEN's group)