Chiral α-functionalized ketones play an important role in organic synthesis, industrial manufacture, pharmaceutical industry, and so on. The asymmetric synthesis of these molecules has always been one of an academic focus. Although there are many ways of realizing the asymmetric synthesis of various α-functionalized ketones, the generality and compatibility of these methods are greatly limited. The method that can obtain a variety of chiral α-functionalized ketones has not been reported.
In a study published in ACS Catalysis, Prof. FANG Xinqiang's group at Fujian Institute of Research on the Structure of Matter (FJIRSM) of the Chinese Academy of Sciences introduced the nucleophilic malonate unit into the racemic α-functionalized ketone by group addition.
The researchers realized a series of α-functionalized ketone resolution by asymmetric catalytic cascade annulation, obtaining up to 11 kinds (including α-methylated, α-benzylated, α-allylated, α-estermethylated, α-aminomethylated, α-thiomethylated ketones and ketones with α-acetamino, α-alkylthio, α-alkyoxy, α-deuterium, and α-fluoro groups) and 41 different chiral α-functionalized ketone molecules. The selectivity factor is up to 684.
Besides, they found that the annulated cyclohexenes can also be transferred to highly functionalized ketones. A variety of further transformations using the enantioenriched α-functionalized ketones are easily achieved. This method provides solution to the seventy-nine years challenges in this field.
This study showed that the real kinetic resolution happens at the second aldol step and the enatioenriched ketones are recovered by the first reversible Michael process. The two-key-step resolution mode initiated by the group addition is critical to the success of this protocol, which provides opportunities for addressing the challenges that could not be solved by direct one-key-step resolution methods.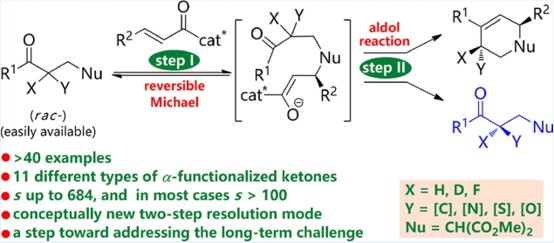 Schematic illustration of organocatalyzed kinetic resolution of α-functionalized ketones ((Image by Prof. FANG's group)