The coevolution of boney bee (predator) and hornet prey has led to remarkable adaptations, including the ability to signal danger or even to warn of different danger levels.
Researchers from Xishuangbanna Tropical Botanical Garden of Chinese Academy of Sciences have showed that honey bee stop signals encode predator danger in their fundamental frequency and danger context in their duration. In a recent study published in Animal Behavior, they found that the stop signals also encode danger in their amplitude.
Referential communication provides a sophisticated way in which animals can communicate information about their environment. Researchers used artificially generated playbacks to test the hypothesis that those signals are referential.
In all playback experiments, signals were only played back when no other trained bees were on the dance floor. Each bee only received one type of signal and was not reused for subsequent playbacks.
Researchers found that bees were more sensitive to higher frequencies, and freezing response thresholds declined as frequency increased.
Attacks by the large hornet caused foragers to produce stop signals that were significantly 1.5-fold higher in vibrational amplitude (peak-to-peak displacement) than the small hornet. Comb playbacks were more effective than direct bee-contact playbacks.
They further found that signals elicited by the more dangerous predator had higher vibrational amplitudes.
The stop signals elicited by the large hornet reduced the average number of waggle dance circuits by 72%. The stop signals elicited by the small hornet reduced waggle dancing by 51%.
The stop signals exceed the separately measured response thresholds. The stop signals elicited by the large hornet were 1.4-fold more inhibitory than those of small hornet.
"By playing back calibrated, artificially generated stop signals that were free of any predator cues or signals, we confirmed that honey bee stop signals are inhibitory and referential," said Prof. TAN Ken, principal investigator of this study.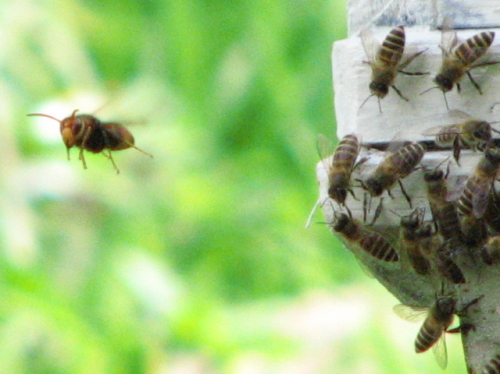 A honey bee alarms and sends stop signals to other bees. (Image by DONG Shihao)