A team from the Institute of Atmospheric Physics (IAP) at the Chinese Academy of Sciences completed a high-altitude expedition in the Himalayas as part of the Second Comprehensive Scientific Expedition of the Tibetan Plateau. This expedition, led by Dr. DUAN Minzheng and conducted from September 25 to October 8, featured extensive research and detection missions on Mount Cho Oyu and Mount Qomolangma.
The scientific team's activities encompassed a wide range of field observations, including ground-based meteorological measurements, greenhouse gases monitoring, vertical profiling of ozone, and collections of atmospheric composition samples using Unmanned Aerial Vehicles (UAV). Their endeavors included the successful execution of aerial surveys from Lhasa to the Cho Oyu Base Camp, situated at 4,950 meters above sea level. Additionally, they accomplished the establishment of a long-term greenhouse gases monitoring station at the Chinese Academy of Sciences' Mount
Qomolangma
Station, positioned at an altitude of 4,300 meters.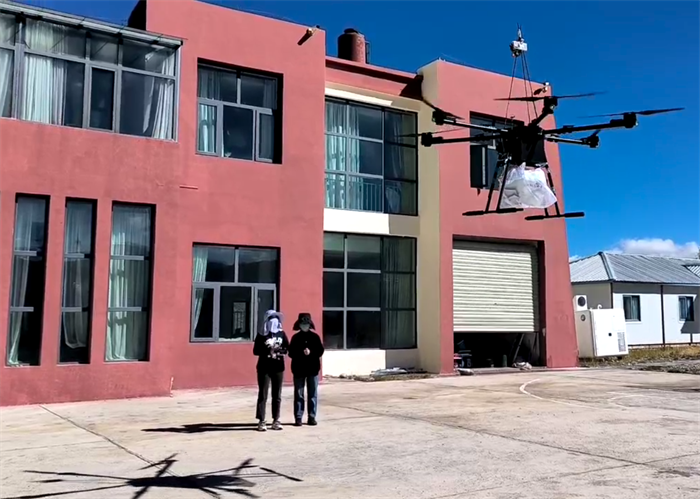 The team fly an UAV at
Mount
Qomolangma
Station. (Image by IAP)
For two members of the research team, QIAO Congcong and ZHOU Ying, both PhD candidates, this marked their inaugural exposure to the challenging high-altitude environment, where they grappled with extreme cold, oxygen deficiency, and physical fatigue at an elevation of 5,000 meters. Despite these hurdles, they actively participated in a range of scientific experiments, including setting up tents, assembling equipment, calibrating instruments, operating UAV, and sampling gases and other scientific activities. They successfully fulfilled the gases sampling from ground to 1200m above ground in Qomolangma mountain area. The collected samples have been sent back to Beijing for further analysis and research.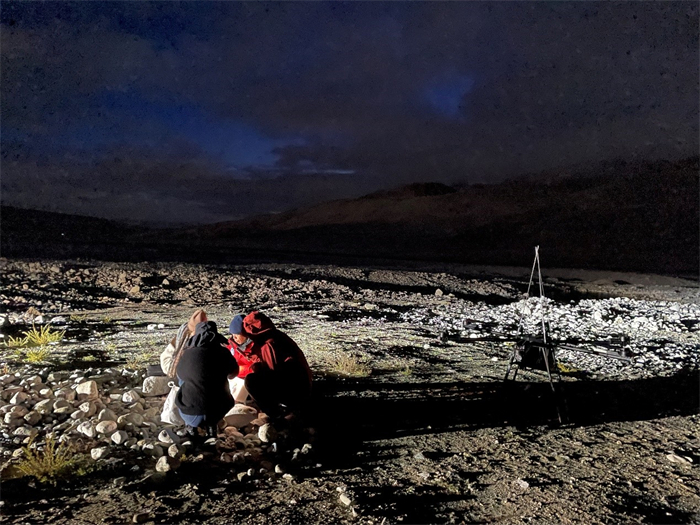 Preparing for the UAV measurements in the dawn at
Mount
Cho Oyu base camp. (Image by IAP)
PIAO Shilong, Academician of the Chinese Academy of Sciences, visited the team's UAV measurements onsite and stressed the substantial scientific significance of the field campaign: UAV measurements will improve the precision and efficiency of greenhouse gas satellites monitoring in the Tibetan Plateau region; it will also help to more accurately estimation of carbon sources and sinks in the Tibetan Plateau region through greenhouse gas vertical profiling, in combination with satellite remote sensing and the "GONGGA" four dimensional assimilation model, which is developed by the research team. He also praised the team's significant contribution to a deeper understanding of greenhouse gas source and sink variation related to the on-going global warming, the warming and moistening of the Qinghai-Tibet Plateau, and their connections to human activities.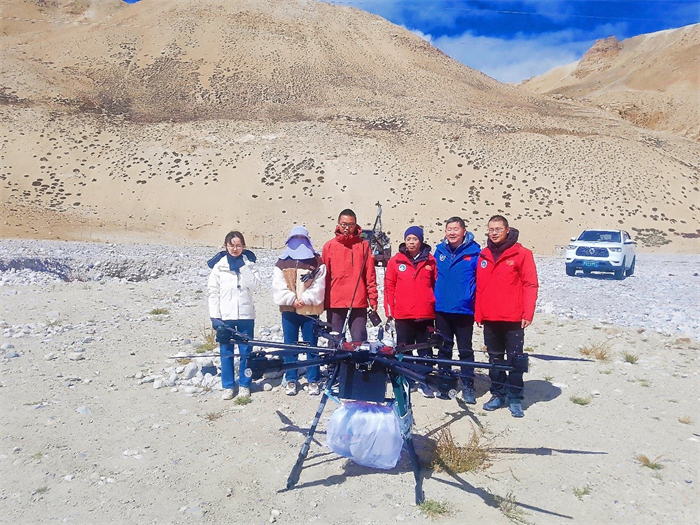 PIAO Shilong and the team. (Image by IAP)
Cho Oyu, positioned on the border between China and Nepal in the central Himalayas, is the world's sixth-highest peak, towering at 8,201 meters above sea level. Contrasting with the renowned "Roof of the World," Mount Qomolangma, the Cho Oyu region experiences more pronounced climatic changes. Notably, the summit of Cho Oyu boasts the most substantial snow and ice cover among all peaks above 8,000 meters. This coverage presents an invaluable repository of information concerning high-altitude climate change. Furthermore, it is worth highlighting that this expedition marks the first time that a Chinese scientific team has conducted field atmospheric observations on an 8,000-meter peak other than Mount Qomolangma.