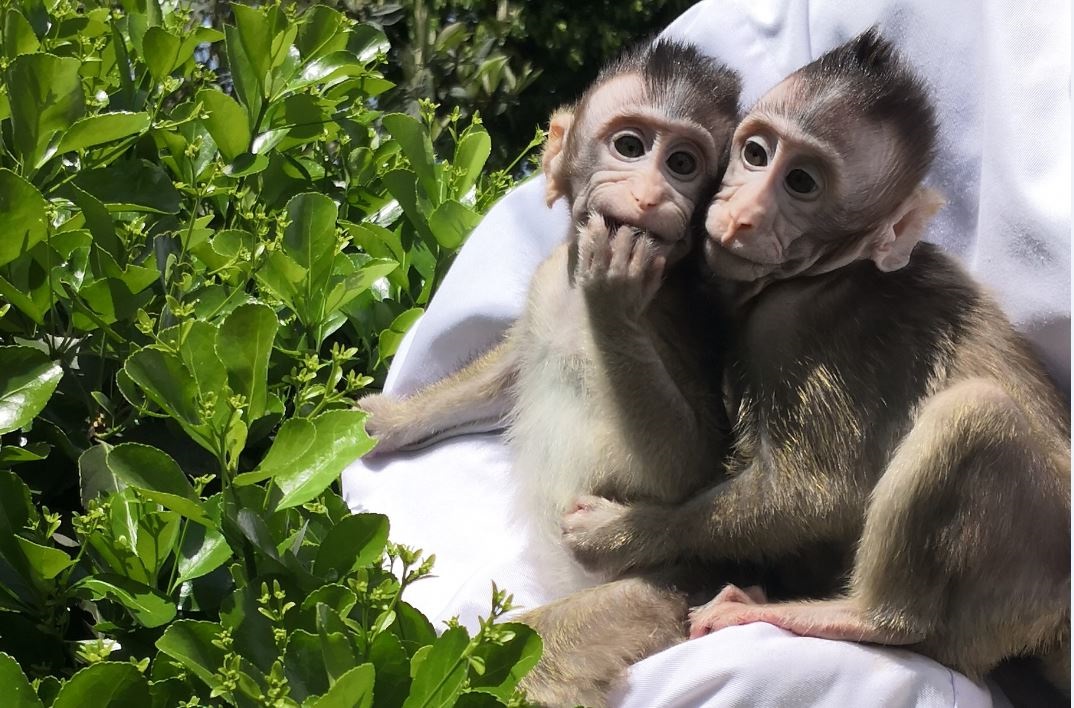 Zhongzhong and Huahua, the world's first monkeys cloned by using somatic cells, are taken outside to bask in the sun in Shanghai. [Photo provided to chinadaily.com.cn]
A new research base in Shanghai will be dedicated to monkey cloning and neuroscience studies with results to advance the research of human brain diseases, according to a report of Science and Technology Daily on Thursday.
In January, scientists from the Institute of Neuroscience (ION) under the Chinese Academy of Sciences (CAS) successfully cloned two macaques from somatic cells, regarded as a breakthrough in neuroscience and a great opportunity for brain disease research.
Based on monkey cloning technology, the CAS Center for Excellence in Brain Science and Intelligence Technology (CEBSIT) launched the base in Songjiang district of Shanghai on Wednesday, with plans to develop and eventually commercialize key neuroscience technologies. It also aims to create leading enterprises in neuroscience and artificial intelligence.
Muming Poo, director of CEBSIT and ION, was quoted as saying that the center is aimed at becoming an international center for nonhuman primate disease modeling research and a national center for brain intelligence technology research and transformation.
In the base, interdisciplinary research and development teams will use somatic cell cloning and transgenic technology to establish brain disease models, paving the way for the development of new drugs for brain diseases such as Alzheimer's disease and autism, the newspaper said. (Xinhua)