A corpse flower (Amorphophallus titanum), also known as titan arum, is blooming at Xishuangbanna Tropical Botanical Garden (XTBG). Its bizarre appearance and sheer size have long attracted curious visitors and avid gardeners alike. Many people queue up to see the titan arum flower with their noses stuffed, because the flower releases a revolting stench like rotting flesh, instead of fragrant scent for most flowers.
XTBG witnessed the first bloom of the Amorphophallus titanum, one of the largest and rarest flowers in the world, in 2017. Five years later, the bloom occurred again. This is the fifth record of corpse flowering in China.
"The plant comes to full bloom in the afternoon on June 4 and the peak bloom happens on June 5. Its bloom is expected to last two days. The plant may wither on June 6. Compared to the first time, the plant is 30 centimeters higher, reaching 175cm," said WU Fuchuan, a horticulturist of XTBG.
To celebrate the rare occurrence, XTBG did a live webcast on the blooming and attracted more than one million viewers online.
The corpse flower is native to the rainforests of western Sumatra, Indonesia, where it grows on limestone hills at low elevations, in forest openings where there is enough light and space to produce its massive leaf and inflorescence or flower-bearing structure. It is listed as Endangered by the International Union for Conservation of Nature (IUCN), with an estimation of fewer than 1,000 individuals remaining in the wild.
XTBG researchers collected its pollens during the blooming, expecting to store for future research, breeding and possible new species cultivation.
"The corpse flower is a striking example of the incredible biodiversity of our planet. Our garden will make more conservation efforts related to Amorphophallus titanum and other plants," said YANG Yongping, director of XTBG.
The allure of the corpse flower comes from its great size, which is the largest unbranched inflorescence in the plant kingdom, its powerful stink, and fleeting presence. The inflorescence (a collection of flowers acting as one) also generates heat, which allows the stench to travel further.
"The plant blooms only when sufficient energy is accumulated, making time between flowering unpredictable, spanning from a few years to more than a decade," said WU Fuchuan.
Amorphophallus titanum in bloom at XTBG. (Image by XTBG)
Amorphophallus titanum in bloom at XTBG. (Image by XTBG)
Amorphophallus titanum in bloom at XTBG. (Image by XTBG)
Amorphophallus titanum in bloom at XTBG. (Image by XTBG)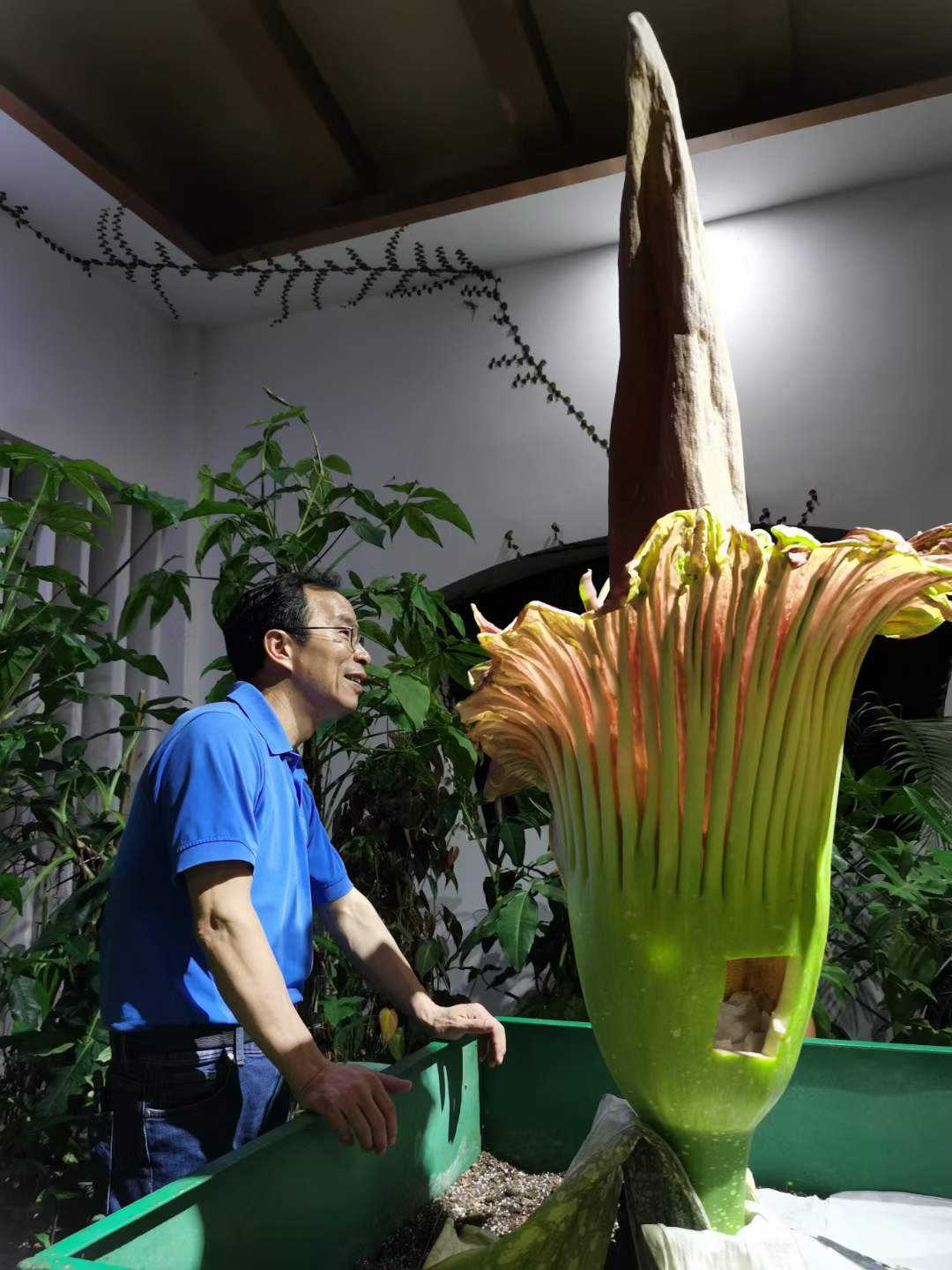 Prof. YANG Yongping observing Amorphophallus titanum in bloom at XTBG. (Image by XTBG)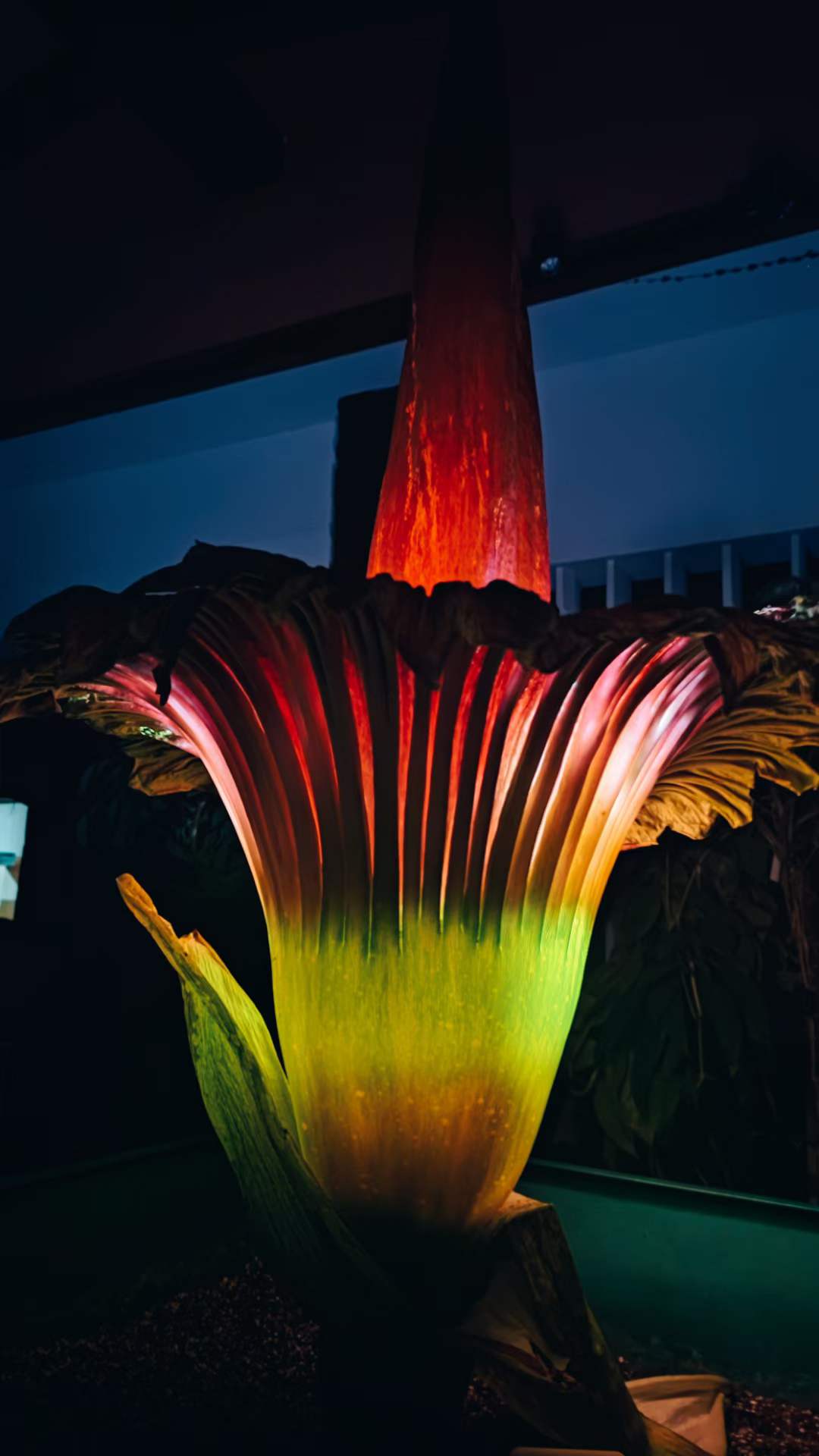 Amorphophallus titanum in bloom at XTBG. (Image by XTBG)
Amorphophallus titanum in bloom at XTBG. (Image by XTBG)