Scientists Find Tracks of Smallest Known Dinosaur with Rare Skin Details
Feb 18, 2019 Email"> PrintText Size


An international team of paleontologists have discovered fossilized tracks of Minisauripus, the smallest known dinosaur, with details of its skin, the researchers announced in Beijing Thursday.

This is the first time that skin prints have been found in such tracks, according to Jong Deock Lim, a researcher on the team from the Republic of Korea (ROK).

"Common dinosaur footprints are usually 20 cm to 30 cm long, but the tracks of Minisauripus are usually 2 cm long," said Xing Lida, a scientist with the study from the China University of Geosciences in Beijing.

"Different dinosaurs have different patterns of scales. The discovery of the skin prints will help advance studies on mini theropod dinosaurs."

Kyung Soo Kim, a professor at the Chinju National University of Education in ROK, found the tracks at a local construction site, making it the tenth site of Minisauripus around the world.

Tracks of the tiny dinosaur are only found in China and the ROK, according to the researchers. The findings have been published in international journal Scientific Reports. (Xinhua)
(Editor: LIU Jia)
Fossil Footprints Bring Dinosaurs to Life
May 04, 2016
A set of dinosaur footprints recently discovered in Zhaojue county in Southwest China's Sichuan province sheds more light on the mysterious life of Minisauripus-the smallest dinosaur ever found-but scientists are warning that similar ancient traces c...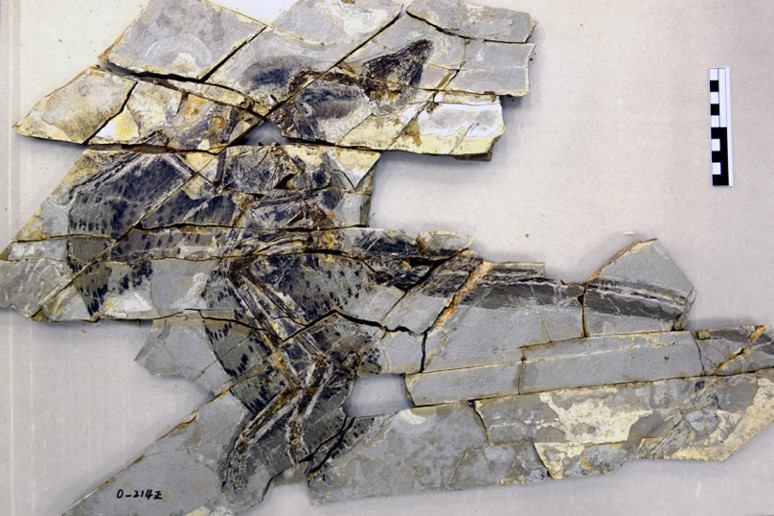 Fossil Dinosaur Feathers Reveal Origin of Flight
Jan 30, 2019
Researchers conducted molecular analysis of feathers from fossilized Jurassic feathered dinosaurs, fossil birds and modern birds, and found the key proteins that make up feathers gradually became thinner and more flexible as flightless dinosaurs evolve...

New Dinosaur Species Fossil Discovered in China
Sep 14, 2018
Chinese scientists have found the fossil of a new dinosaur species in southwest China's Yunnan Province. The findings were recently published by the journal Scientific Reports. Researchers have named the new species Yizhousaurus sunae, known in Chinese...